THE GREAT PLAINVIEW DISTRICT: "WHERE THERE IS NOTHING SHALLOW BUT THE WATER"….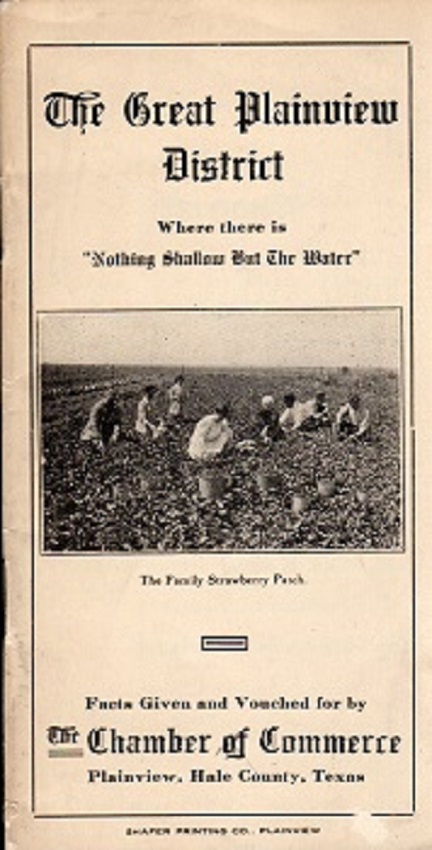 [Texas – Land Promotion] Plainview Chamber of Commerce.
Plainview: Shafer Printing Co., n.d. [ca. 1915]. 25pp. Photographs. Printed wrappers (approx. 6" x 3"), stapled. First edition. Light soiling, overall, very good. This little pamphlet extolls the virtues of Plainview and Hale county in glowing terms. It begins with a description of Plainview as an agricultural, educational, and commercial center of the South Plains. It touts its three national banks, four lumber yards, fine retail stores, three "picture shows," cement sidewalks, modern sewer and water works, and its "broad minded and enterprising" citizens. The business district is described as "practically all of brick or concrete construction." The residential area is "artistic and up-to-date." In glowing terms it describes the ready availability of water for irrigation, the richness of the soil, temperate climate, and the variety of crops that can be grown. It concludes with testimonials by area farmers as to high yields from various crops. Scarce with WorldCat listing only five copies.
$ 225.00
# bbd011
Categories: