TEXAS LANDS FOR SALE-OWNED OR CONTROLLED, MARCH 1884, BY JAMES F. STARR, MARSHALL, TEXAS.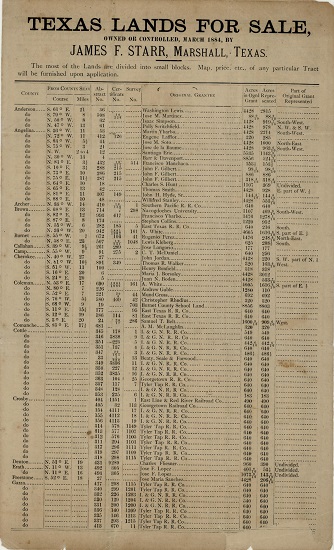 [Texas – Land for Sale ]
N.p. [Marshall?], n.d. [1884?]. 4 pp [blank on back page] sales leaflet - approx. 14" x 8 ½" folded; 28" x 8 ½" unfolded. Minor chipping along the perimeter with a larger triangular piece missing from the bottom edge affecting a small portion of the verbiage. Short tears along the edges and at the folds have been reinforced with acid-free archival tape. Overall, good+. James Franklin Starr, confederate soldier and businessman, was the oldest son of James Harper Starr, first Treasurer of the Republic of Texas. After the war, he returned to Marshall and, with his father, formed James H. Starr and Son, Land and Banking Agents. This was the first bank in Marshall. In addition to banking, the firm was also heavily involved in land sales and promotion throughout the state. This brochure lists their extensive offerings by county. It breaks down each tract it gives direction and miles from county seat, abstract number, original grantee, acres in the original grant, acres offered, and other pertinent information. While WorldCat lists this document, no copies are located. Rare.
$ 675.00
# [jba011]
Categories: