TEXAS ARGONAUTS: ISAAC H. DUVAL AND THE CALIFORNIA GOLD RUSH.
LIMITED TO 450 COPIES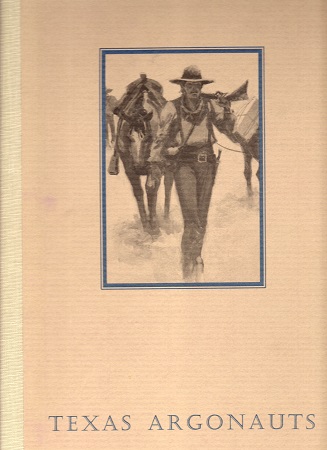 Richard. Dillion
San Francisco: The Book Club of California, 1987. 199pp. Illustrations by noted Texas artist, Charles Shaw. Endpaper map showing Duval's route. Index. Footnotes. Bibliography. Designed and printed by David Holman. Illustrated boards with cloth spine and printed spine label. First edition, limited to 450 copies. Fine copy (no dust jacket issued). Kurutz, The California Gold Rush 212:"This handsome publication, with fine introduction and notes by Richard H. Dillion, summarizes and reproduces Major Duval's memoirs from 1838 to 1852. Isaac Duval followed the Gila Trail from Texas to California. The trek was filled with an assortment of difficulties and adventures, including encounters with hostile Apaches. Pages 123 – 172 cover Duval's experiences in the Gold Rush….These recollections, written by the leader of the 'Texian Company', complement the Benjamin Butler Harris account. This book also serves as an accompaniment to H. M. T. Powell's Santa Fe Trail." The book is further enhanced by thirteen (ten double page) color paintings commissioned for this volume.
$ 225.00
# SS25
Categories: