TELEPHONE DIRECTORY – THE DALLAS TELEPHONE COMPANY, DALLAS, TEXAS – SPRING, 1923.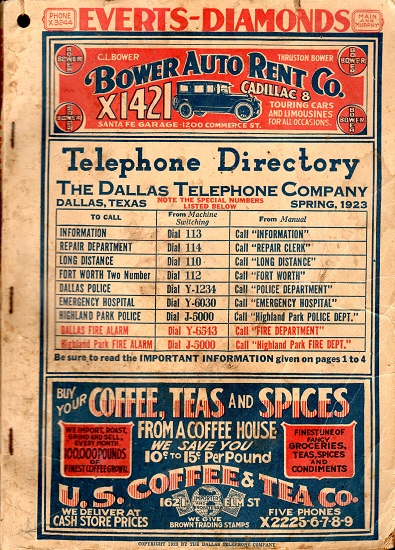 Dallas Telephone Company.
N.p.[Dallas], 1923. Unpaginated - [approx. 220pp.]. Numerous advertisements. Colorful pictorial wrappers, stapled. Externally, uniform age toning and general wear to the wrappers. Internally, the pages are also uniformly toned with the occasional short tear usually to the page edge. Overall, good. Essentially, the first four pages tell subscribers how to make local and long distance calls. The balance of the directory is divided into two sections. The first is an alphabetical list of subscribers, both residential and business. The second is "Classified Business Section" which organizes businesses by categories and incorporates advertisements throughout. Rare with WorldCat locating no copies.
$ 185.00
# [lai035]
Categories: