NO NAME ON THE BULLET: A BIOGRAPHY OF AUDIE MURPHY.
INSCRIBE BY THE AUTHOR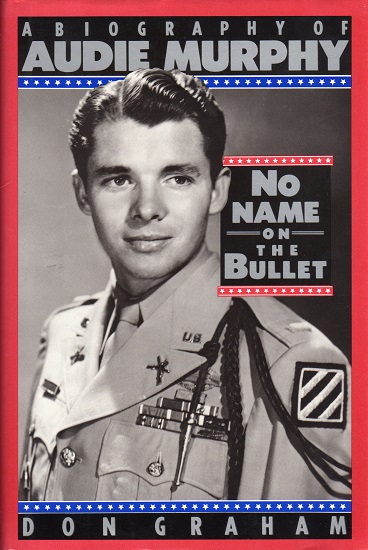 Don. Graham
New York: Viking Press, 1989. xvi,396pp. Index. Photographs. Notes. Filmography. Red paper over boards with black cloth spine, title in silver on the spine. First edition, first printing. INSCRIBED by the author. Fine copy in a fine, unclipped dust jacket. Audie Murphy was born on June 20, 1925, in Kingston, a small rural community in Hunt County in northeast Texas. He was one of the most decorated American combat soldiers of World War II, receiving every military combat award for valor available from the U.S. Army. At 19 he single-handedly held off a company of German soldiers for which he received the Medal of Honor. After the war, Murphy would embark on a 21-year acting career making over 40 films. He died in a private plane crash on May 28, 1971, just before his 46th birthday. Graham describes Murphy's wartime exploits and film making career in engrossing details. He also examines Murphy's character, personality and behavior building a strong case that he was a victim of post-traumatic stress disorder. The author also chronicles the darker aspects of Murphy's postwar years painting an accurate but sympathetic picture. An extremely well-written book and the best to date on Audie Murphy.
$ 75.00
# [ibj012]
Categories: