IN THE LINE OF DUTY: REFLECTIONS OF A TEXAS RANGER PRIVATE.
SIGNED BY BOTH AUTHORS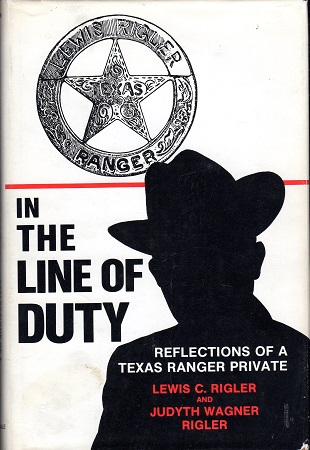 Lewis C. & Judyth Wagner Rigler. Rigler
Houston: Larksdale Press for the authors, 1984. 188pp. Illustrations. Facsimiles. First edition, first printing. SIGNED by the author and co-author. Tiny bit of foxing to the top edge, else a fine copy. The dust jacket shows some edgewear and very slight crinkling to bottom of the front panel, overall, very good. The recollections of 30 years service, beginning in 1947, with the Texas Rangers. There are accounts of his involvement in murders, kidnappings, strikes, burglary rings, etc. Includes a chapter on M. T. "Lone Wolf" Gonzaullas and has some material on the Kennedy assassination. Printed in a small edition, the first printing is scarce.
$ 30.00
# [bbb001]
Category: