EAST TEXAS HISTORICAL JOURNAL. – VOLUME I, NO. I. JULY, 1963.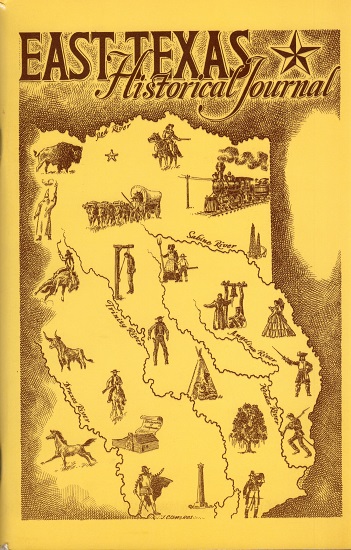 C.K. [Editor-in-Chief]. Chamberlain
Nacogdoches: Stephen F. Austin State College, 1963. 76pp. Maps. Pictorial wrappers designed by Carl Hertzog and illustrated by Jose Cesneros. First edition. Two small dings to the head and toe of the spine, else clean and fine. Internally, there is the ink ownership stamp of the great-great granddaughter of James Harper Starr, first treasurer of the Republic of Texas on the inside of the rear cover. Pages are clean and fine. Civil War content consist of: "With the Confederate Cavalry in East Texas: The Civil War Letters of Pvt. Isaac Dunbar Affleck" and "East Texas in the Election of 1860 and the Secession Crisis." Other articles deal with the killing of thespian B. C. Porter and wounding of his fellow performer Maurice Barrymore in Marshall, early East Texas novelists and their work, and the observations on East Texas by a young visitor from Richmond.