CULTURE CONFLICTS IN TEXAS, 1821 – 1835.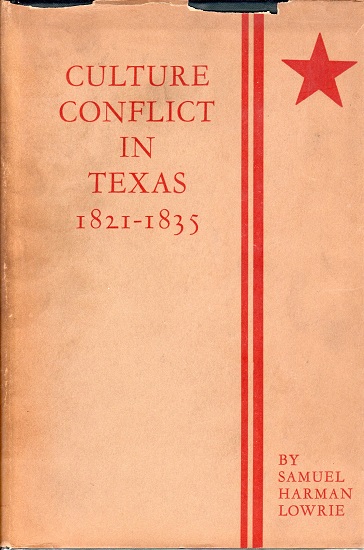 Samuel Harman. Lowrie
New York: Columbia University Press, 1932. 189pp. Index. Notes. Folding frontispiece of Austin's 1835 map of Texas. Dark green cloth with title in gilt on the spine. First edition, review copy. Externally, with the exception of oxidation to the gilt on the spine, it is a fine copy. Internally, stamped on the front fly in red ink: "Review Copy, Nov 1932 $3.00, Columbia University Press." The printed dust jacket is uniformly age toned and has moderate chipping most noticeably at the top of the front panel, overall good. The author's purpose is to analyze the conflict in Texas between the Anglo-American colonists and the Mexican people between 1821 – 1835. In analyzing the conflict, he attempts to show how and why it arose, to what extent it was racial, and what were the results. Lowrie avoids abstractions and examines actual historical incidents to reach his conclusions. A fine scholarly effort.
$ 85.00
# [fbj005]
Category: