CHARLES GOODNIGHT, COWMAN AND PLAINSMAN.
IN THE ELUSIVE DUST JACKET.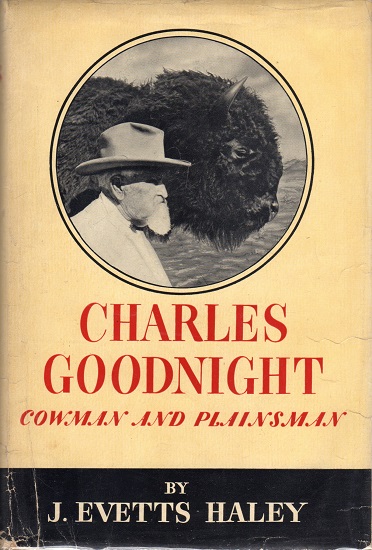 J. Evetts. Haley
Boston & New York:Houghton Mifflin Co., 1936. xvi,485pp. Index. Bibliography. Map. Frontis. Illustrations. by Harold Bugbee. First edition. INSCRIBED. Externally, there are two short (approx. ¼") to the cloth at the foot of the spine, else a fine copy. Internally, that is toning to the pastedowns and flys, else a fine copy. The dust jacket show general wear and rubbing (most noticeable on the back panel), overall, a good+. Reese, Six Score 53: "The best biography of a cowman ever written….Haley's beautifully written biography, perhaps his best book, is an ample vehicle for a mighty figure, and is a classic of American biography." A. C. Greene, Fifty Best Books on Texas 35: "The best Texas biography I've read." Jenkins, BTB 81: "This is a biography of one of the greatest Texans." Adams, Six-Guns 908: "A distinguished biography of an outstanding cattleman." Dobie & Dykes 44&44 13: "Haley's book is packed with character realities, illuminating anecdotes, all sorts of lore about horses, cattle, wild animals, mirages, and other features of nature. A full-length portrait, written out of fullness of knowledge, it is the outstanding biography of the cattle industry of America." In my opinion, this is the absolute best, most readable biography of a cattleman to date. The book may not be in a class by itself; but it sure doesn't take long to call the roll. An exceptionally nice copy and rare in the dust jacket.
$ 950.00
# [eba007]
Categories: