A HISTORY OF THE WAGGONER RANCH.
LIMITED EDITION OF 325 COPIES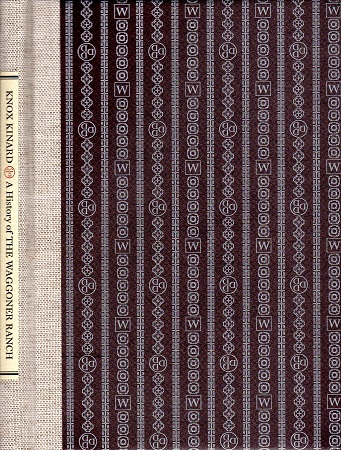 Knox Kinard
Abilene: Four-O Publishing, 2011. 61pp. Illustrated with tintype photographs provided by Robb Kendrick. Design and typesetting by Jace Graf of Cloverleaf Studio. Foreword by Larry McMurtry. Linen spine with paper spine label, paper over boards incorporating the ranch's famous reverse triple "D" brand. Limited edition of 325 copies. SIGNED by Kendrick and Graf. Very fine (no dust jacket issued). In 1941, the author submitted this as his Master's thesis and, other than an appearance in the Panhandle Plains Historical Review in 1943, it is unpublished. The genesis of the Waggoner Ranch began in 1852 when Dan Waggoner with his family and a slave boy trailed 230 longhorns into Wise County. After several relocations, they moved their headquarters to Clay County. Between 1889 and 1903, they aggressively acquired land in six surrounding counties accumulating over half a million acres and covering over 780 square miles. In addition to giving the history of the ranch and the Waggoner family, there is information on the "Waggoner Colony," its conservation efforts, discovery of oil and its subsequent impact, and notable employees like Bob Moore (See: Dobie, Bob Moore: Man and Bird Man). This handsome collaboration between designer and photographer is the only publication to focus on this iconic Texas ranch.
$ 200.00
# ha002
Categories: