YARBOROUGH: PORTRAIT OF A STEADFAST DEMOCRAT.
INSCRIBED ASSOCIATION COPY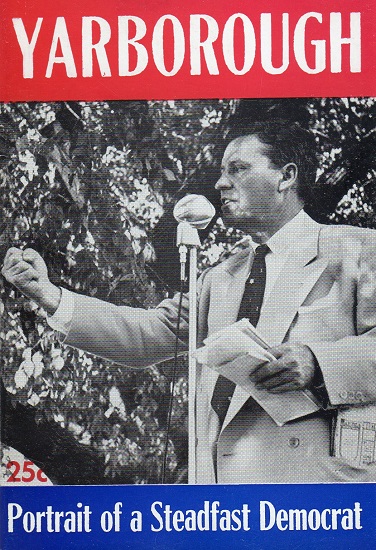 Mark & Creekmore Fath. Adams
Austin: Chaparral Press, 1957. 59,[5]pp. Many photographs are by noted Austin photographer Russell Lee. Photographic wrappers. First edition. INSCRIBED to Dallas writer, historian and, apparently, Democrat, Bryan Woolley. Clean, near fine copy. Ralph W. Yarborough (June 8, 1903 – January 27, 1996) was a Texas Democratic politician who served as a U.S. Senator from 1957 to 1971. He was known as "Smilin' Ralph" and used the slogan "Let's put the jam on the lower shelf so the little people can reach it." Despite the authors' claims to the contrary, this photobiography appears to have been prepared for Yarborough's 1957 senatorial campaign. It provides information on his background, his family, his wife and son and his beliefs based on his speeches, actions, and other published material. Uncommon with WorldCat listing only a few scattered copies.
$ 25.00
# aid076
Categories: