WILLIAM WATTERS: HIS DESCENDANT AND RELATED FAMILIES. Cleburne: Hallman Printing & Office Supply, 1967. v, 386pp. Index. Bibliography. Illustrations—various family crests. [with] SUPPLEMENT TO WILLIAM WATTERS, HIS DESCENDANTS…. Cleburne: Hallman Printing & Office Supply, 1968. 137 (387 – 524) pp. Index.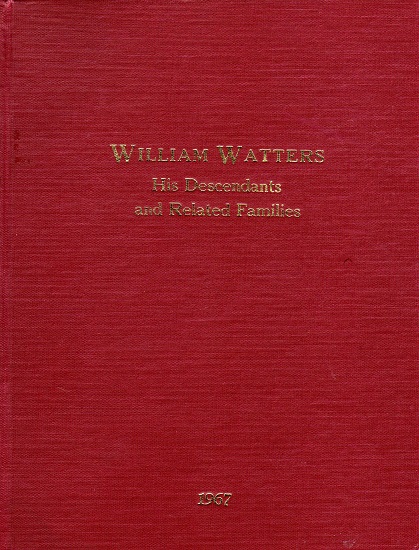 Juanita Watters et al
Bound in maroon cloth with title in gilt on the front cover. Externally, a fine copy showing only the very slightest bit of wear. Internally, fine with some offsetting from typed corrections pasted in after it was printed. No dust jacket issued. Second edition and first printing of supplemental material. An extensive compilation of the genealogy of the of the three principal branches of the Watters family as well as information on 25 related families. The family initially settled in the Carolinas; but, after the Civil War, dispersed through the South including Texas. This volume contains not only genealogical information but autobiographies, memoirs, military records, and, of particular interest, various recollections of the experiences of family members. The "Supplement" contains corrections and additions to genealogical material as well as additional reminiscences and listing of their achievements. Containing a wealth of material, it is scarce with WorldCat locating a few scattered copies of the 1967 and 1968 editions and only one copy of the "Supplement" (in microfilm) at the Genealogical Society of Utah.
$ 145.00
# abb001
Category: