WILLIAM BOLLAERT'S TEXAS.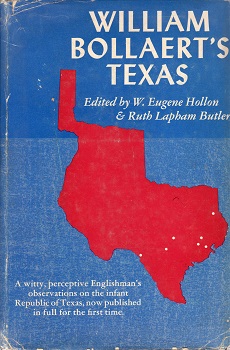 William. Edited by W. Eugene Hollon & Ruth Lapham Butler. Bollaert
Norman: University of Oklahoma Press, 1956. xxiii,423pp. Index. Bibliography. Extensive notes. Illustration. Map. Appendices. Red & blue cloth with the title in silver on the spine. Externally, rubbing to the spine ends and small area towards the foot of the spine, overall, very good-. Internally, near fine. The dust jacket shows general wear and a damp stain to a portion of the back flap and top of the back panel, overall, good. Herbert Gambrell: "His [Bollaert] record is valuable because it is accurate, first hand data. It is delightful because it is multifaceted touching on matters that other travelers overlooked…." Joe B. Frantz: "Here is life in Texas recorded by an Englishman with a sympathetic but perceptive eye." William Bollaert arrived in Texas in 1842 and he remained until mid-1844, when he returned to his home in England. This was a period of talk of Mexican invasions, annexation, and diplomatic complications with the United States and abroad. The author talks about all these things. His principal focus, however, is on the people, the land and its resources. There is material on the Indians, the Negroes, agriculture, commerce, land speculation, the Alamo, music, dances, and a Capitol over run with "bats, lizards, and stray cattle." An important first person addition to the literature of Texas.
$ 30.00
# [cbb0065]
Category: