WHO SHOT THE BEAR? J. EVETTS HALEY AND THE EUGENE C. BARKER HISTORY CENTER.
LIMITED TO 295 COPIES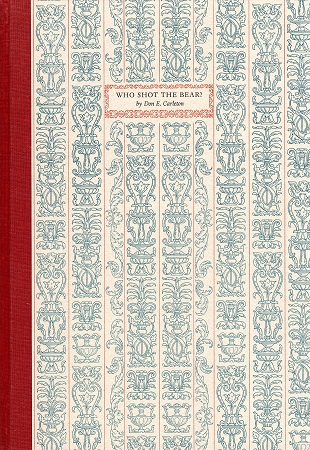 Haley J. Evetts & Don E. Carleton

Austin: Wind River Press, 1984. 31pp. Photographs. Notes. Cloth spine with paper patterned covers over boards. Designed by David Holman. First edition, limited to 295 copies. Very good (no dust jacket issued). Splendidly designed, this well-written account tells of the love-hate relationship between Mr. Haley and the University of Texas, as well as his primary role in creating the Barker Texas History Center. Contains information, previously unpublished, from the correspondence of J. Evetts Haley, J. Frank Dobie, John A. Lomax, Walter P. Webb and others. Mr. Haley once told me: "If I didn't 'shoot the bear'--- at least I did my damnest…" and I know he did. Almost immediately out of print and now scarce.
$ 85.00
# SS45
Categories: