UNITED STATES CARTRIDGE CO.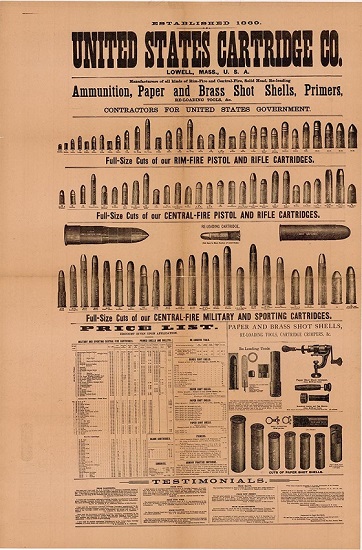 [Firearms – Ammunition]
N.p., n.d. [ca 1880s?]. Single sheet, printed one side. Approx. 34" x 23". Printed on thin paper, it exhibits uniform age toning and creases from being folded. A split at a seam and short tears along the edges have been closed with acid-free archival tape. Overall, very good. Shows in actual size rim-fire, centerfire, military and sporting cartridges. There are illustrations of reloading equipment, a price list and testimonials to the superiority of their cartridges. The United States Cartridge Company was founded in 1869 by attorney, politician, and Civil War general Benjamin F. Butler. His position as a Massachusetts congressman was helpful in securing munition contracts with the government. Over time, the company evolved into one of most successful cartridge producers, supplying 65% of the ammunition for World War I. The United States Cartridge Company was eventually acquired by the Winchester Arms Company and moved from Lowell, Massachusetts, to New Haven, Connecticut. A very nice copy, it is perfect for framing.
$ 295.00
# [hba011]
Category: