"TYLER TO SHARPSBURG": THE WAR LETTERS OF ROBERT H. AND WILLIAM H. GASTON, COMPANY H, FIRST TEXAS INFANTRY REGIMENT HOOD'S TEXAS BRIGADE [Cover Title].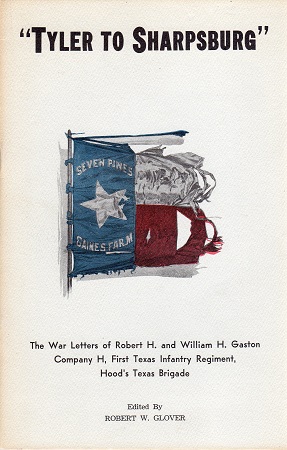 Robert W. Glover [ed.].
Waco: W. M. Morrison, 1960. 22pp. Frontis. portrait of W. H. Gaston. Tipped-in is a facsimile of one of Robert Gaston's letters on CSA letterhead. Includes a roster of the officers and enlisted men of Company H. Printed pictorial wrappers. First edition, limited to 1000 copies. Slight tanning to the perimeter of the wrappers, overall very good+. A compilation of letters written from July, 1861 to November, 1862 by Robert H. and William H. Gaston. The brothers, both officers, served in Company H, First Texas Infantry, Hood's Brigade. William served with the unit until the spring of 1863 when he transferred to the Trans-Mississippi Department. He saw action at West Point, Virginia, Gaines' Mill, Second Manassas, Sharpsburg, and Fredericksburg. The boys' letters reflect the life and times of their unit. They recorded camp life, the marches, the rumors, the battles and their opinions of their superiors. Robert was killed at the Battle of Sharpsburg (Antietam). William would survive the War and return to Anderson County. Later, moving to Dallas, he became active in the city's business and civic development. W. H. Gaston would become president of Gaston National Bank, one of the first in Dallas County. He helped bring the railroads to Dallas, developed its street car system, built bridges and, eventually, donated 80 acres of land for the State Fair of Texas. An important, primary source on Hood's Brigade.