TRADING IN SANTA FE: JOHN M. KINGSBURY'S CORRESPONDENCE WITH JAMES JOSIAH WEBB, 1853 – 1861.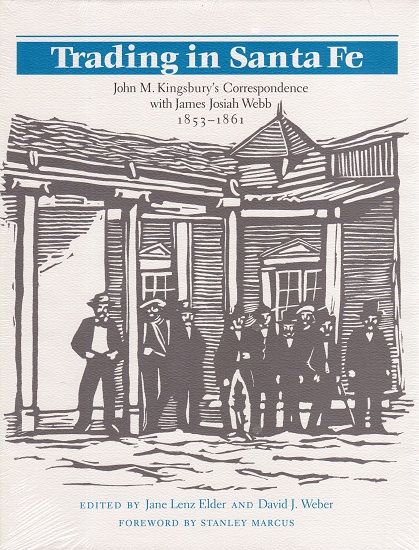 Jane Lenz & David J. Weber Elder
Dallas: Southern Methodist University Press, 1996. xxxix,326pp. Index. Illustrations. Notes. Introduction by the editors. Foreword by Stanley Marcus. Bibliography. Appendix. Brown cloth with white cloth spine. First edition. As new in the original shrink-wrap. In 1853 John M. Kingsbury formed a partnership with James Josiah Webb and went to Santa Fe as the junior partner of the mercantile firm of Webb & Kingsbury. During the 1850s, the volume and value of goods shipped over the Santa Fe Trail reached new heights but, until now, there was little information about this trade. From 1853 to 1861, Kingsbury sent regular reports to his partner in Connecticut. His letters give details not only about the operations of Webb & Kingsbury but about their Anglo-American rivals as well. Aside from Kingsbury's observations about his competitors, there are first-hand observations on the business and economic conditions of the region, colorful gossip about New Mexico politics and politicians and commentary on Santa Fe's social and cultural life. These letters are an important source for understanding 1850s Santa Fe. They have the benefit of being contemporary and not written from memory long after the events have passed. Thus, they have exceptional vividness and fidelity to detail. The book is enhanced by the editors insightful and informative introductions and chapter notes.
$ 35.00
# [hbj004]
Category: