THE RHODES READER: STORIES OF VIRGINS, VILLAINS, AND VARMINTS.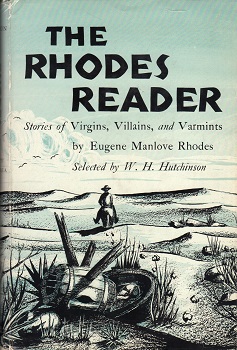 Eugene Manlove. [comp.]. W. H. Hutchinson. Rhodes
Norman: University of Oklahoma Press, 1957. xxvii,316pp. Endpaper map. Notes. Turquoise cloth with title in black ink on the spine. First edition. Fine copy. Dedicated to F. "Bourne" Hayne, it contains an INSCRIPTION by W. H. Hutchinson that reads: "How the 'e' was added to Bourn Hayne's name between page proofs and printed page baffled me and Savoie Lottinville [note: Lottinville was director at the O.U. Press from 1938 to 1967]. The "e" has been marked out in ink by Hutchinson. The dust jacket shows minor edgewear, overall, very good-. Rhodes moved to New Mexico in 1881 and "fell in love with the state." In 1883 he went to work at the Bar Cross Ranch, an experience which formed the basis for much of his writing. In 1899, Rhodes and his wife moved to New York where he continued to write stories about cowboy life. He moved back to New Mexico in 1926 and continued to write there until his move to California for health reasons. These fifteen Rhodes stories, selected by W. H. Hutchinson, author of A Bar Cross Man and Rhodes' literary executor, are republished in this volume. Most of them originally appeared in magazines and this is their first appearance in book form. Each story is enhance by an introduction that explains their contributions to the development of western literature and their place in Rhodes' own career as a writer. Included in these stores are three nonfiction essays dealing with New Mexico's quest for statehood, the writing of Western fiction and a defense of Pat Garrett against critics partial to Billy the Kid.
$ 45.00
# cbb0066
Category: