THE RACHEL PLUMMER NARRATIVE: A STIRRING NARRATIVE OF ADVENTURE, HARDSHIP AND PRIVATION IN THE EARLY DAYS OF TEXAS, DEPICTING STRUGGLES WITH THE INDIANS….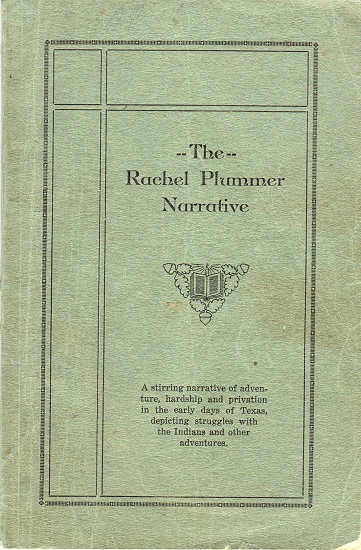 Rachel & James W. Parker. Plummer
N.p.: Privately printed by Rachel Lofton, Susie Hendrix & Jane Kennedy, 1926. 118pp. Frontis. portrait of Quannah Parker. Photographs (2). Original green printed wrappers. Reprint of the exceeding rare first edition. Externally, the covers exhibit minor creases and wear with slight chipping to the head and toe of the spine; small pieces missing from one corner of the front and back covers. Internally, a few small holes (insect damage?) to some of the pages (note affecting text). In all, a good copy, of a fragile binding. Streeter Bibliography of Texas 1525: "The capture of Fort Parker on the Navasota River in the then quite unsettled part of Texas and the subsequent captivities are among the famous events in Texas history….." On May 19, 1836, a large group of Indians, mostly Comanche, attacked Ft. Parker killing five of the inhabitants and taking five captive--- Rachel and James Plummer, Cynthia Ann and John Parker and Elizabeth Kellogg. Rachel Plummer lived as a Comanche slave for twenty-one months suffering incredible hardship and abuse. Eventually, a Santa Fe trader ransomed Rachel. Her account was first published in Houston in 1838 and is unique in that it was the first narrative about a captive of Texas Indians that was actually published in Texas. Also, reproduces James W. Parker's Narrative of the Perilous Adventures, Miraculous Escapes and Sufferings of Rev. James W. Parker During a Frontier Residence in Texas… Parker, who with his oldest son and two sons-in-law was working a short distance from the fort, was alerted of the attack by his daughter. His narrative gives details of the battle and his subsequent efforts to find his captured relatives. Somewhat overlooked, is Parker's excellent description of Texas which would be of particular value to anyone interested in immigrating to Texas.
$ 275.00
# [iba002]
Category: