THE PRISONERS OF PEROTE, CONTAINING A JOURNAL KEPT BY THE AUTHRO, WHO WAS CAPTURED BY THE MEXICANS, AT MIER….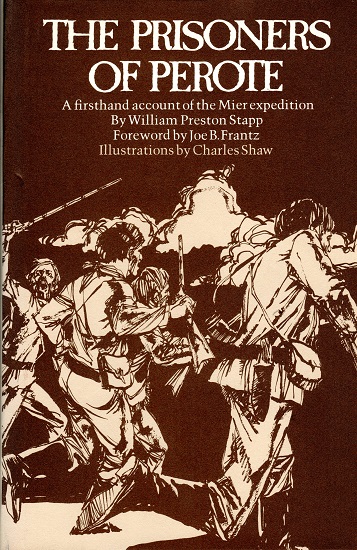 William Preston. Stapp
Austin: University of Texas Press, 1977. xxiv,226pp. Illustration by Charles Shaw. Forward by Joe B. Frantz. Tan paper over boards. Reprint of the rare 1845 original. Fine copy in an equally nice dust jacket. Jenkins, BTB 197: "This was the first book to appear on the Mier expedition; it is still one of the best. Stapp was a highly literate private soldier, observant and interested in what went on around him…Descriptions of the march to the Rio Grande, the Battle of Mier, the surrender of the Texans, their imprisonment and attempts to escape, the drawing of the black beans, the removal to Mexico City, and imprisonment in Perote Prison." Stapp's account of the affair differs from Green's Journal of a Texian Expedition against Mier in that Green was afforded certain courtesies because of his rank, while Stapp suffered the hardships and privations of the enlisted men until he was released. This book has been cited by Streeter as one of the best bo. Iv,367pp1980oks for a Texas collection. This edition is enhanced by Dr. Frantz's knowledgeable, insightful forward.
$ 25.00
# bba029
Category: