THE INSTINCT NEVER DIES.
THE "BLACK TULIP" OF WESTERN FINE PRINTING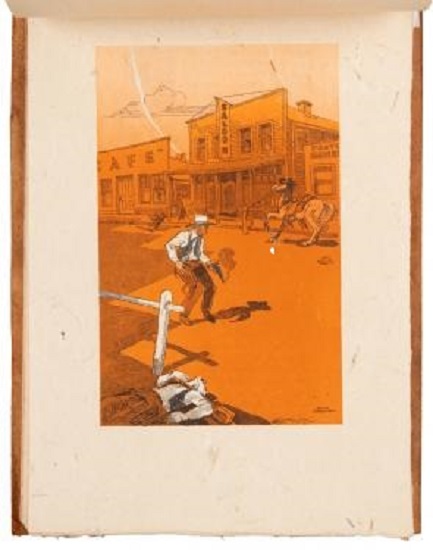 Ed. Bateman
N.p. Privately published by the author: n.d. [1931]. Unpaginated [41 pp.]. Printed on the recto only. Illustrations by Dick Spencer. Written, designed and type set by the author. Oblong quarto (approx. 12" x 7 ¾"). Full limp cowhide wraparound cover, tied with a rawhide thong. Printed on Japanese handmade paper. First edition of a legendary rarity. Externally, some spotting to the covers and minor wear. Overall, very good. Internally, it exhibits only very minor wear with is amazing considering this thinness of the paper. Overall, very good or better. The author, the son of a minister, came to appreciate books and value education through the influence his family. At eighteen, he came to Texas work found work as a newspaper reporter. Post-World War I, he covered the East Texas oil boom for the Houston Post and Dallas Times Herald. Quitting the newspaper business, Bateman began leasing land and quickly established a drilling company. After forty-one dry holes, his company brought in the largest discovery in the American history. Bateman sold his interest in field for in excess of two million dollars (in 1931). Fortunately, half the money was set aside in a trust to buy a ranch and the other half was to pursue additional drilling. The wildcatting money was spent, apparently, on more dry holes and the author retired to a ranch in King County. His story has a final footnote. Per Al Lowman, "In 1943 a major oil company simply plunked down a test well on his ranch without making any instrument surveys of the subsurface. The ensuing strike made "Bateman's Luck" a household expression in west Texas." Lowman, Printing Arts in Texas p. 26 – 27: "Expense was no object for one of the rarest items printed during the depression era. The Instinct Never Dies reflects what one man can do when he has talent and a lot of money…It was issued in such limited numbers that few bibliophiles have ever seen or heard of it…Ten years after the book was produced J. Frank Dobie discovered it and requested a copy [cataloger's note: now in the Dobie Collection at UT], as did his cousin, Dudley Dobie, the doyen of Texas's antiquarian booksellers….he wrote Dudley Dobie: 'I produced this book during the Bateman Age of Extravagance, when money (for which, apparently, I have a native-born contempt) was indeed plentiful. I spent so much on it, the very sum per copy would horrify an intelligent man.' " Frank Dobie: "Ed Bateman is a philosopher. There are many things in his philosophy that many oil men have never dreamed of. Sometime the old urge to write seizes him. I have a rare little book that he not only wrote but designed and set with his own hands." It contains six vignettes of people and places he encountered in his extensive travels. As the author writes in his introduction: "…. Therefore those of you who now hold the volume in your hands have two consoling thought for the boredom you may suffer: first, that it cost you nothing, and second, that it is the concrete results of an old newshound having a hell of a good time." This newspaper man turned oilman has produced one of the finest and rarest of imprints. So much so that it has been referred to as the "black tulip" of western fine printing.
$ 9,750.00
# [abc001]
Categories: