THE ADVENTURES OF A PRISONER OF WAR 1863 – 1864.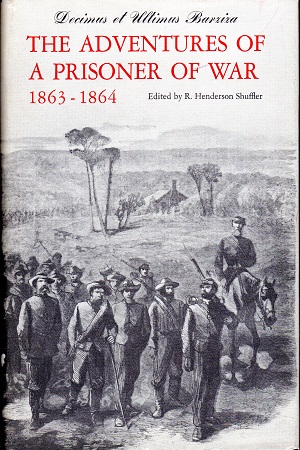 Decimus et Ultimus. Braziza
Austin: University of Texas Press, 1964. xiv,140pp. Index. Bibliography. Notes. Illustrations. Dark gray cloth. Edited by Henderson Shuffler. Reprint of the exceedingly rare (two known copies) first edition published in 1865. Review copy with review slip laid-in. Fine in an equally nice dust jacket. The author entered Confederate service as a first lieutenant in the "Robertson Five-Shooters," an infantry company which was one of the original units of the Fourth Texas Infantry, Hood's Brigade. The first person narrative of a Texan who was a prisoner of the Yankees, escaped to Canada and made his way through the blockade into the Confederacy. One of the few prisoners of war accounts published by either side prior to the end of the Conflict, it also contains a good firsthand account of the 4th Texas at Gettysburg.