SOUVENIR OF WRAY AND OF VERNON COLORADO.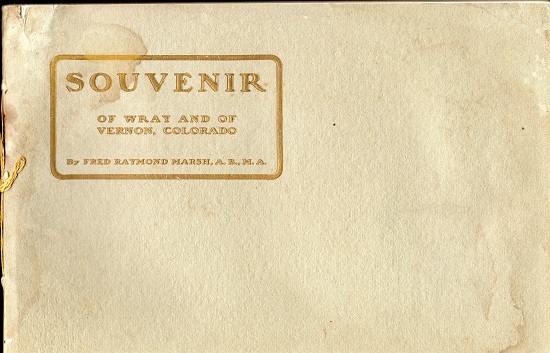 Raymond Marsh. Marsh
Wray: Press of Wray Gazette, [1907]. 88pp. Numerous photographs. 19 pages of advertisements. Rectangular paper wrappers (approx. 6" x 9") with the title embossed on the covers in gilt, tied. First edition. This piece has gotten wet at some point and is reflected by the damp stains on the front cover. Internally, the damage is most severe at the tops of pages at the fold where in some cases there is loss of paper. In most cases, the stain or loss of paper does not affect the image. The binding itself is tight and holding well. While only a fair copy, it is complete and serviceable (additional scans available upon request). The author, pastor of the First Presbyterian Church of Wray, extolls the virtues of the area for the richness of the soil ("…considered by experts to be similar to the best lands of Kansas and Nebraska."), adequate, but not excessive, rainfall, moderate climate, progressive and temperate attitudes, etc. Lists the cities' churches, schools, major businesses, and Wray's recently completed "electric light plant" with a capacity of "1200 lights." Includes brief historical sketches of Wray, Vernon, and Yuma County and concludes with a stirring account of the Battle of Beecher Island which resulted in the death of Cheyenne chief, Roman Nose. However, the strength of this item is in the superb period images. There are photographs of street scenes, residences of prominent citizens, major business, churches, agricultural and ranching panoramas and even the local baseball and girls basketball teams. A great visual tour of rural Colorado in the early 1900s, it is rare with WorldCat locating only two copies.
$ 150.00
# hc017
Categories: