SOME PART OF MYSELF.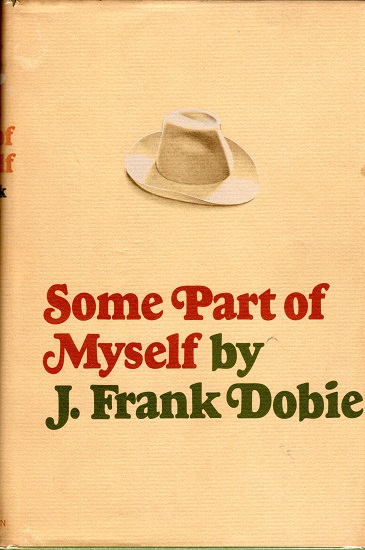 J. Frank [Bertha Dobie Dobie
Boston: Little, Brown & Co., 1967. 282pp. Index. Photographs. Foreword by Bertha Dobie. Green cloth. First edition, probable review copy with Little, Brown & Company card laid-in reading: "With the compliments of the author." In this case, "the author" has been crossed out and it is signed by Bertha Dobie. Both the spine of the book and dust jacket show very slight fading, overall, near fine. Frank Dobie never wrote an autobiography per se. However, he wrote autobiographical "scraps" and accumulated them in an "autobiographical box" over a twenty-five-year period. Three years after Frank's death, his wife took these "scraps" and edited them into an autobiographical work. Valuable because it was assembled by someone who knew him best.
$ 65.00
# [iba022]
Category: