POKER ALICE: ALICE IVERS, DUFFIELD, TUBBS, HUCKERT (1851-1930) HISTORY OF A WOMAN GAMBLER IN THE WEST.
SIGNED, LIMITED EDITION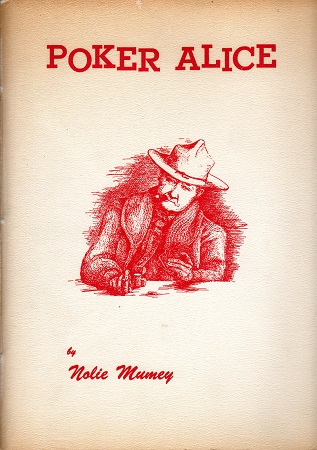 Nolie. Mumey

Denver: Artcraft Press, 1951. 47pp. Photographs. Illustrations. Notes. Stiff white wrappers with a drawing of Alice, complete with cigar, on the front cover. Large folding map. First edition, limited edition of 500 numbered and SIGNED copies. Small (approx. ¼") chip at top of the spine and slight tanning to the perimeter of the white wrappers. Except as noted, a very good copy. Adams, Six-Guns 1568: "To my knowledge, the only book written about this unique and noted western character." Born in England, Alice began her career watching her husband play poker and, after a while, she began sitting in on games while her husband worked in the mines. With his untimely death in a mining accident, Alice turned to cards for a living. The author gathered most of his information from personal interviews with individuals who knew Poker Alice.