ONE OF CLEBURNE'S COMMAND: THE CIVIL WAR REMINISCENCES AND DIARY OF CAPT. SAMUEL T. FORSTER, GRANBURY'S TEXAS BRIGADE, CSA.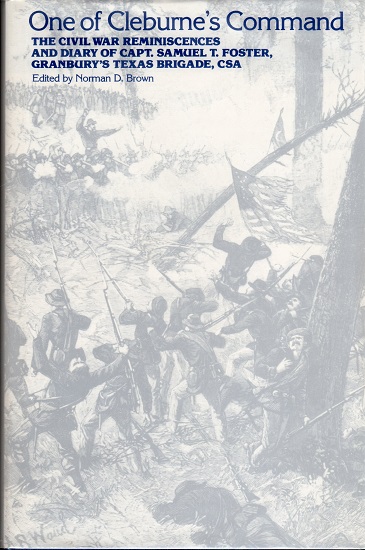 Capt. Samuel T. & Dr. Norman D. Brown [ed.]. Forster
Austin: University of Texas Press, 1980. xlvii,192pp. Index. Notes. Maps. Illustrations. Hardcover. First edition. Fine copy in a chip-free near fine dust jacket. Foster, a member of the 24th Texas Cavalry, Granbury's Brigade, recounts his Civil War experiences in two parts. His reminiscences, written several years after the war, cover events from the Battle at Arkansas Post (Fort Hindman) through April, 1864. At this point, he begins writing almost daily entrees during the Atlanta campaign from May to September, 1864. In a more sketchy manner the author continues the diary to the end of the war. Foster details everyday army life, recounts various battles including Chickamauga, Chattanooga, Kennesaw Mountain, Franklin, and others. In an interesting narrative he comments on strategy, the merits of the various generals in the Western theater, and gives his opinion of Jefferson Davis. The book is enhanced by Brown's extensive explanatory notes, biographical sketch of Foster and account of the early history of the regiments in Granbury's Texas Brigade. A valuable first person narrative.
$ 30.00
# [gba001]
Category: