LOCATION OF THE NEW FORD MODEL V-8 POWER PLANT TROUBLES MADE EASY.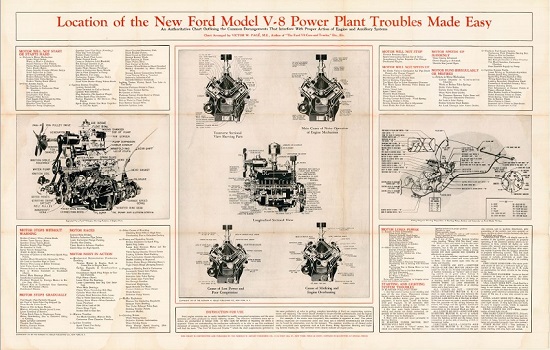 Victor W. [Ford Motor Company] Page
New York: Norman W. Henley Publishing Co., 1937. Single sheet, printed one side. Approx. 22 ½" x 35". Illustrations. Minor toning most noticeable at the creases where folded, overall with a couple of very faint damp stains, good condition. Original poster designed for trouble shooting problems with the new Model A engine. The exploding and sectional views address issues with the engine, fuel, cooling and ignition systems. The "new V-8 power plant" refers to the 123 CID engine introduced in 1937.
$ 145.00
# [hba014]
Category: