LES AMERICAINS AU D' AUVOURS.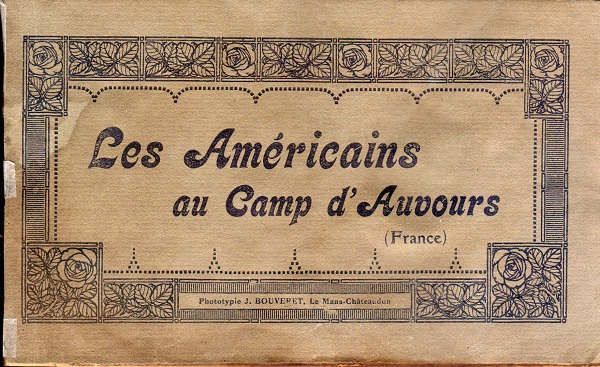 J. [photographer]. [World War I] Bouveret
LeMans-Chateaudun, France: N.p., N.d. (ca. 1917-1918). Stiff printed wrappers (approx. 3 ½" x 6") containing 20 photographic postcards of World War I American soldiers at Camp Auvours. Externally, the covers have been wet and exhibit crinkling and damp staining. The front cover has been reattached with acid-free archival tape as have the first two post cards. Internally, some of the postcards, particularly towards the front, also show the effects of being wet (See scan). Overall, it is in fair condition externally and good internally (the first four postcards are only fair). Auvours Camp was a training ground located approximately 7 ½ miles east of Le Mans. It was a very large area where troops came for training exercises, maneuvers and R&R. During World War I, American forces were encamped there. This brochure depicts daily life at Camp Auvours for the American doughboys. A wonderfully visual piece, it is rare with WorldCat locating no copies.