IN SOUTH CHEYENNE CANON WITH PEN AND CAMERA.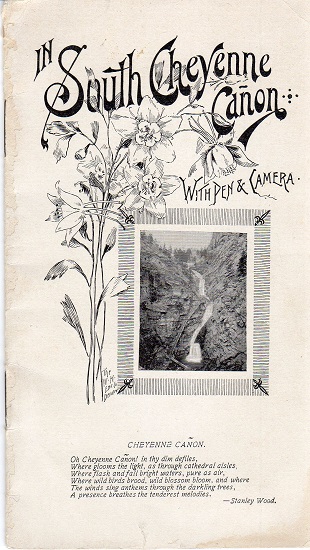 [Colorado] Hull Brothers
Denver: The Capron Stott Printing Co., n.d. [ca. 1900]. 24pp. Photographs. Illustrations. Printed pictorial, wrappers, approximately 3 ¾" x 6 ½". Minor wear mostly to the perimeters, overall very good. This early Colorado travel brochure was issued by the Hull Brothers who were the proprietors of the South Cheyenne Canon. It was located at the north end of Cheyenne Mountain, five miles from Colorado Springs and nine miles from Manitou. There are photographs of Seven Falls, Pillars of Hercules, the Colorado Loop Road, numerous waterfalls and scenic views with a narrative of the landmarks and scenic highlights. It features the photography of W. E. Hook, H. S. Pooley, C. S. Jackson and includes poems by Helen Hunt Jackson, Stanley Wood and Belle Hunt.
$ 45.00
# aid078
Categories: