[Hertzog, Carl] "CLOSE TO THE WORK."
UNIQUE ASSOCIATION COPY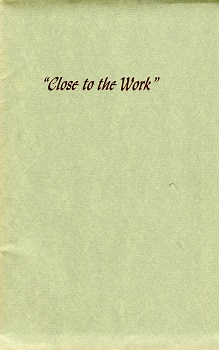 Carl Hertzog
Single sheet note on Hertzog's personal stationary written entirely in his distinctive handwriting, dated April 24, 1974. Written around Easter, he expresses his desire for more faith, noting his has slipped "a lot over the last few years." He comments favorably on Oral Roberts and laments that "fan mail" and visitors takes up so much of his time that he can't get his work done. In its original mailing envelope, his letter is addressed to "Chet." This is Chet B. Story, his stepfather, who bought him a small printing press when he was ten--- and the rest as they say is history. The letter has a single crease from being folded, else, fine. The brochure is near fine.
$ 75.00
# bba048
Category: