ECHOES FROM FORGOTTEN STREETS: MEMORIES OF KILGORE, TEXAS, OIL CAPITAL OF AMERICA.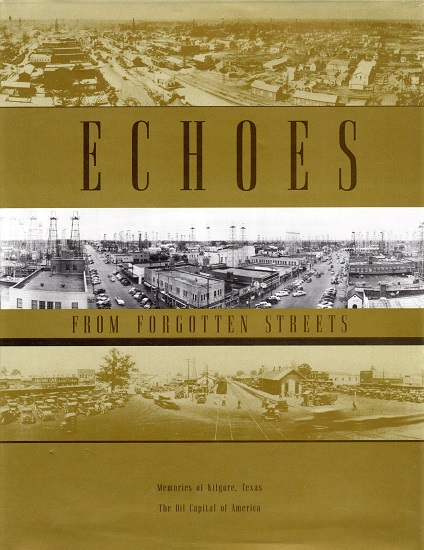 Caleb Prittle III & Terry Stembridge.
Dallas: Dockery House Publishing, n.d. [2002?]. 310pp. Bibliography. Numerous black & white photographs including an aerial view (ca. 1940's) with key structures identified. Dark brown cloth with title in gilt on the cover and spine. First edition. Very fine copy in an equally nice dust jacket. This is a marvelous pictorial survey of Kilgore, Texas from around the 1850's to about 1960. The photographs are primarily from the archives of Kilgore's newspapers the Daily News, the Herald and the Kilgore News Herald. While it covers many aspects of Kilgore's history, there are numerous photographs and historical vignettes relating to the discovery of oil and its impact on the community. This is the companion volume to Kilgore: Visions of Forgotten Streets by the same authors.
$ 65.00
# lai023
Category: