DOUGLAS'S TEXAS BATTERY, CSA.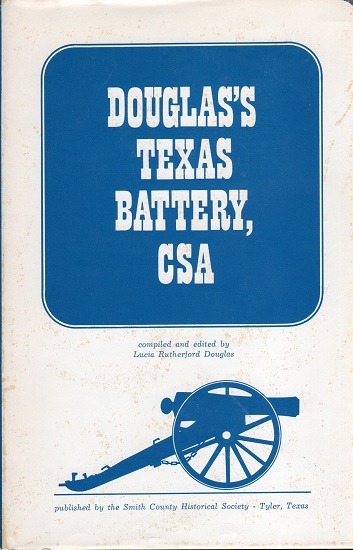 Lucia Rutherford. [comp. & ed.]. Douglas
Tyler: Smith County Historical Society, 1966. xiii,238pp. Index. Notes. Appendices. Photographs. Hard cover. First edition. Externally, very faint foxing to the top edge, else fine. Internally, fine with the ink ownership stamp of the great-great granddaughter of James Harper Starr, first treasurer of the Republic of Texas. The dust jacket exhibits faint foxing, slight edgewear with a small, triangular ink (?) stain to the upper corner of the front panel and rubbing along the spine, overall very good-. Douglas's Texas Battery had the distinction of being the only Texas artillery unit to serve east of the Mississippi during the Civil War. From Elkhorn Tavern to the end of the war, the battery fought at Murfreesboro, Chickamauga, Kennesaw Mountain, Atlanta Campaign, Nashville, Mobil and a number of other battles and skirmishes. The book begins with the correspondence of Captain James P. Douglas, the second (and last) commander to his future wife Sallie Susan White. This correspondence, clearly intended for her eyes only, is unusual in that it contains descriptions of various military actions, unit movements, challenges of command, and opinions of superiors---clearly things not usually found in letters of this type. Additionally, there is Douglas's diary for a portion of 1864. It also contains the diary of Sam Thompson who served was a private in the unit for four years. These letters first appeared in The Tyler Weekly Rustler from September 5, 1892 to February 1, 1893. There is also a brief history written by a member of the unit and two rosters, one giving the original members of the unit and a final one made in April,1865. Primary source for material on this unique unit.
$ 85.00
# [gba004]
Category: