[Dallas] THE EDUCATION CENTER OF THE SOUTHWEST.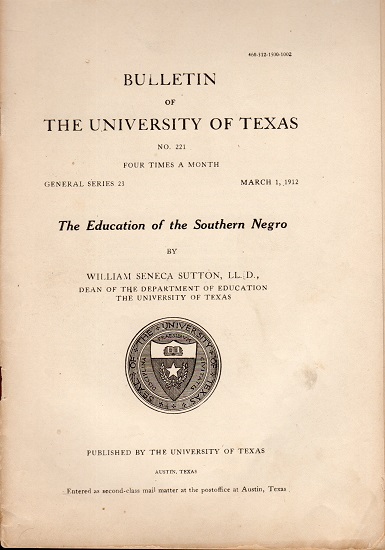 Dallas Chamber of Commerce & Manufacture's Association. Educational Committee
N.p. [Dallas], n.d. [1912?] 46pp. Numerous photographs including panoramic view of downtown. Heavy stock white paper wrappers with embossed title label affixed to front wrapper, tied. First edition. Externally, minor wear. Internally, ink library numbers at the bottom of first page and faint library stamp at top. Overall, very good+. The purpose of the publication is to acquaint Texas parents with the range of educational opportunities available to their children in Dallas, urging them to "keep Texas boys and girls at home." It begins with a description of SMU and the advanced educational opportunities it affords. This is followed by listing, with photographs, of the public, private and vocational schools and the programs they offer. Enhanced by the many early 20th century photographs, The most stunning is the 8" x 32 ¼" fold out image of the downtown Dallas business district. Rare with OCLC listing only two copies.
$ 225.00
# bba021
Category: