A CENTURY OF MEDICINE IN SAN ANTONIO, THE STORY OF MEDICINE IN BEXAR COUNTY, TEXAS.
SIGNED, LIMITED EDITION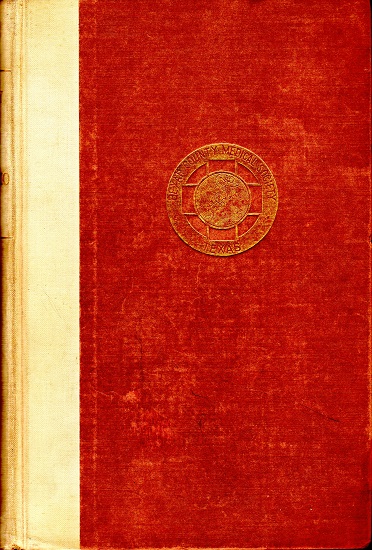 Pat Ireland. Nixon
San Antonio: Privately printed for the author, 1936. 405pp. Index. Bibliography. Appendices (3). Frontispiece. Original white cloth spine over gilt stamped brown boards. First edition, limited edition of 100 copies. SIGNED. The book shows light soiling to spine and rubbing to the boards, overall, good (no dust jacket issued). Baird, Texas Medical History 178: "An excellent county medical history by Texas' leading medical historian." The first major work on Texas medicine by noted San Antonio physician-historian, Pat Ireland Nixon. It is considerably more scarce than the author's better known work, The Medical Story of Early Texas, published a decade later. The limited edition of this book is seldom offered.
$ 150.00
# bba050
Category: