UPS AND DOWNS OF AN ARMY OFFICER.
SERVED WITH THE BUFFALO SOLDIERS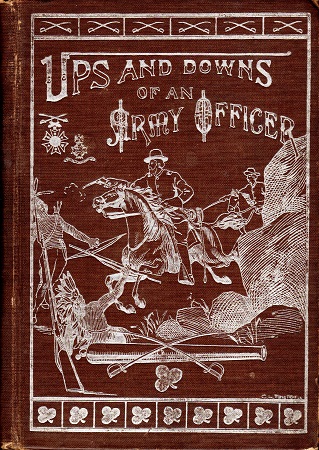 Col. George A. Armes


Washington: Privately printed by the author, 1900. xix,784pp. Frontis. Illustrations. Portraits. Facsimiles. Original brown cloth with silver lettering and cover design. First edition. Wear to the spine ends with five small holes in cloth of the spine, corners bumped and worn through, hinges are cracked (but holding), the front hinge has been crudely repaired with tape, affixed to the front flys are newspaper clippings about Col. Armes which have offset the pages. There are also tears to frontispiece page. In short, a complete copy in fair condition. Armes was born in Fairfax County, Virginia, in 1844. When Virginia seceded, he declined to enter the Confederate service and was the only boy in the county to enlist in the Union Army. Armes fought in all the battles from The Wilderness to Petersburg. In the fall of 1865, he joined the U. S. Cavalry and was sent to fight Indians on the plains. Armes became a captain in the 10th Cavalry under the command of Colonel Benjamin Grierson. One of the 10th's first battles was against 400 Cheyenne at the Battle of the Saline River about 25 miles northwest of Ft. Hays, Kansas. He was seriously wounded in the fight and 35 of his 70 men were killed or wounded. Later, he would serve with the 10th at Forts Concho, Stockton, and McKavett fighting the Comanches. Along the way, he was brought up for court martial eight times on a variety of charges. Much on the Buffalo Soldiers and their activities.