THIS BITTERLY BEAUTIFUL LAND: A TEXAS COMMONPLACE BOOK.
SPECIAL PRICING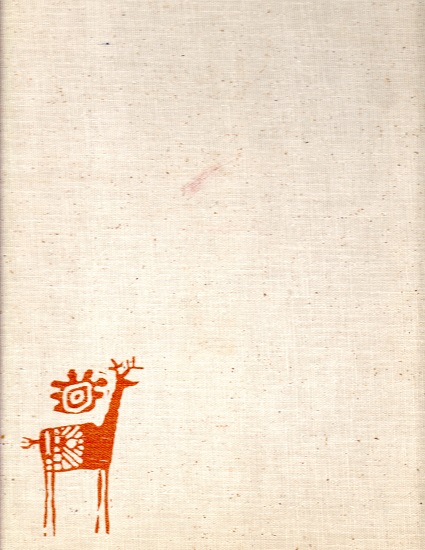 Al Lowman [comp. & ed.].
Austin: Roger Beacham Publisher, 1972. 54pp. Illustrated with original woodcuts by Barbara Whitehead. Designed and printed by William Holman. Introduction by Carl Hertzog. . Natural linen like cloth over boards with terra cotta woodcut of a deer on the cover. Limited edition of 275 copies. Light toning to the perimeter of the front cover and spine with a couple of small stains and chipping to the paper spine label, overall good+. An interesting collection of 41 short descriptions of Texas by a variety of authors which include John Graves, Walt Whitman, J. Evetts Haley, Frank Dobie, Sam Houston, Tom Lea and others. Each essay is set in a different type and printed in two colors on handmade paper. Carl Hertzog [from the introduction]: "The difficulty of accomplishing this craftsmanship in printing a book of this nature, wherein every page must be created as a complete unit yet blend with the book as a whole, is prodigious." Mr. Holman traveled to the Inveresk Paper Mill in Wookey Hole, England to supervise the making of the handmade paper, assuring proper texture, color and quality. It was then printed directly from the type/woodcuts on a hand fed printing press. Skillfully compiled and edited by Al Lowman and beautifully designed and printed by William Holman, it is one of the finest books ever printed in Texas, and out of print on the day of publication. A personal favorite.