THE LOWER VALLEY OF THE RIO GRANDE IRRIGATED FARM LANDS.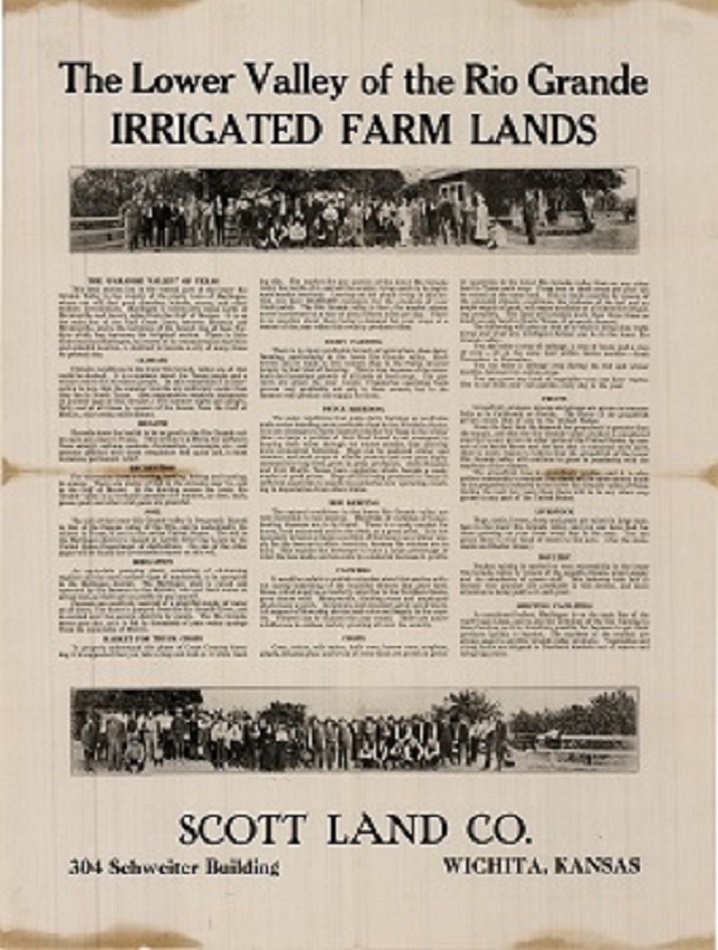 [Texas – Land Promotion Broadside] Scott Land Company.
N.p. [Wichita, Kansas], n.d.[1920]. Photographs. Charts. Large (25" x 19") double-sided broadside, designed for mailing. Creases from being folded, a few old tape repairs and a small amount of staining at the folds, else very good. This brochure extols the virtues of this portion of the Rio Grande Valley as "the Paradise Valley of Texas." It promotes its moderate climate as having curative properties ("is a Mecca for sufferers of catarrh, asthma, malaria, etc…. [resulting], in most cases, in permanent relief."), compares the richness of its soil to the "famous Valley of the Nile," proclaims its enormous agricultural potential, superior recreational opportunities, etc. The verso has charts showing monthly temperatures from 1902 to 1916, distances from Harlingen to major U.S. markets as compared to Los Angeles, soil analysis, and an article on Rhodes Grass. However, the majority is devoted to testimonials to Mr. J. W. Scott of the Scott Land Co. and the quality of the land he is offering. A wonderfully visual piece, it is rare with WorldCat locating only the copy at Yale.
$ 485.00
# bbd010
Categories: