THE GRAPE MAN OF TEXAS: THE LIFE OF T. V. MUNSON.
SIGNED BY BOTH AUTHORS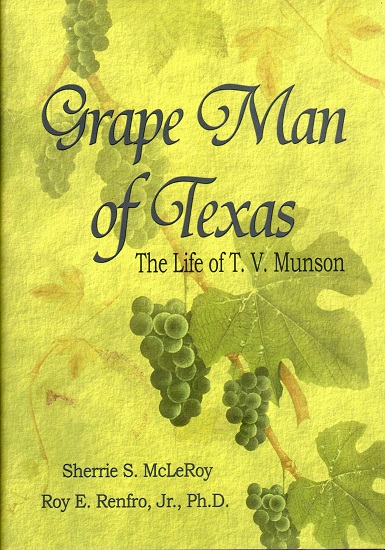 Sherrie S. & Roy E. Renfro McLeRoy
Austin: Eakin Press, 2004. viii,288pp. Index. Bibliography. Notes. Photographs. Facsimiles. Appendices (3). Dark brown cloth with the title in gilt on the spine. First edition. SIGNED by both authors. Fine in an equally nice, unclipped dust jacket. This is the first biography of Thomas Volney Munson (1843 – 1913) the internationally known horticulturalist who developed over 300 varieties of grapes specifically for the American South and Southwest. He is best known for his work in fighting the worldwide phyulloxera epidemic for which he received the French Legion of Merit. The authors recount Munson's story beginning with his ancestorial background and early childhood. They chronicle his extensive travels in Texas locating, categorizing, and hybridizing Texas grapes with the overriding goal of making them a cash crop for Texas farmers. The appendices list his publications, papers, and speeches as well as an alphabetical listing of the grape varieties developed by Munson. This is a solid, scholarly work that presents Munson's life in a highly readable style. Perfect for the lover of wines in general and Texas wines in particular.
$ 55.00
# bbf0037
Category: