THE AMERICAN MAGAZINE OF ART: VOL. 17, NO. 9 – SEPTEMBER, 1926.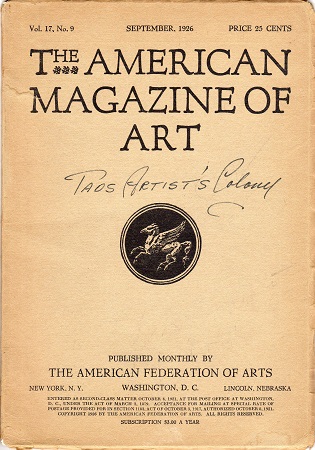 N.M -- Artist's Colony Taos
Washington, D. C.: The American Federation of Arts, 1927. 447-502 [55]pp. Illustrations. Photographs. Advertisements. Original tan printed wrappers. First edition. General wear with small nicks to the overhanging edge and with "Taos Artist's Colony" written in ink on the front cover. The feature article traces the origins of the Colony in 1898 and discusses some of its founding artists. Includes b/w reproductions of some of their work as well as photographs of the Taos area.
$ 15.00
# SS112
Category: