THE ADVENTURES OF AND RECOLLECTIONS OF GENERAL WALTER P. LANE A SAN JACINTO VETERAN CONTAINING SKETCHES OF THE TEXAN, MEXICAN, AND LATE WARS WITH A FEW INDIAN FIGHTS THROWN IN.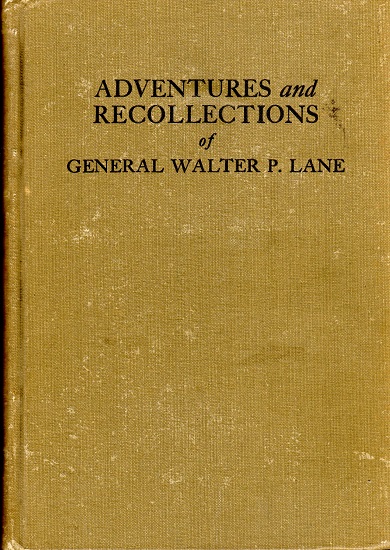 General Walter P. Lane
Marshall: News Messenger Publishing Co., 1928. 180pp. Frontis. portrait. Original olive cloth. Second edition, revised and expanded from the first edition of 1887 (fifty-one pages of additional historical and biographical information were contributed by Lane's niece). Some spotting to the covers and a small area of rippling on the back cover, else very good. Jenkins, BTB 119 (A): "One of the best Texas military memoirs, this is a prime source on the period from the Texas Revolution through the Civil War. No Texas military hero spent more time in the thick of the action than Lane, and his memoirs are meaty with anecdotes and incidents relating to the revolution, the Indian campaigns, the Mexican War, and the Civil War. As Colton Storm has stated, the book contains 'exciting and unusual personal accounts, especially the 'Indian fights thrown in' '….Lane's narrative is salty and pure Texian." Lane fought at San Jacinto where he was run through the shoulder by a Mexican lancer, went on to serve in the Texas Rangers under Jack Hays. As an officer under Hays, he participated in the siege of Monterrey and the Battle of Buena Vista. In the Civil War he was commended for bravery in several battles and rose to the rank of brigadier general. Pages 83-114 deal with Lane's service in the 3rd Texas Cavalry, and his participation in actions at Springfield, Corinth, and Mansfield, Louisiana. Along the way, Lane went to California during the Gold Rush, and also participated in the Battle Creek Fight of 1838 and several other skirmishes with the Indians.