TEXAS RANGERS SESQUICENTENNIAL ANNIVERSARY, 1823 – 1973.
HANDWRITTEN CORRECTIONS BY TEXAS RANGER HISTORIAN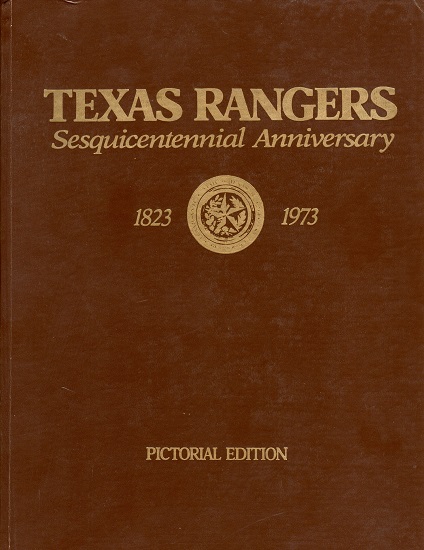 Texas Rangers Commemorative Commission.
Fort Worth: Heritage Publishing, 1973. 176pp. Numerous photographs. Facsimiles. Drawings. Introduction by Dolph Briscoe. Brown faux leather covers with the title in gilt on the cover and spine. Printed signatures of current and former Rangers and other celebrities present at the ground breaking of the Texas Ranger Museum in Waco. First edition. Handwritten text corrections by Robert W. Stephens, Texas Ranger historian and author of a number of books on the Rangers. Additionally, fourteen rangers have added original signatures to their photographs. Laid-in is the publication announcment with a typed letter from Senior Ranger Captain Clint Peoples, signed in facsimile. Fine copy (no dust jacket issued). Contains a history of the Rangers from organization to modern times ably written by Roger Conger, "thumb nail" biographical sketches, many with photographs, of some of the more prominent rangers, group photographs of the various companies, a time line of milestones in Ranger history and photographs of some of the exhibits and commemorative items.
$ 150.00
# [abj007]
Category: