TEXAS' LAST FRONTIER: FORT STOCKTON AND THE TRANS-PECOS, 1861- 1895.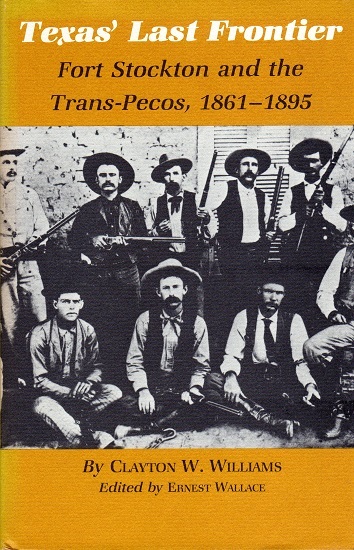 Clayton Williams & Ernest Wallce
College Station: Texas A&M University Press, 1982. xv,457pp. Index. Bibliography. Notes. Photographs. Maps (4) including foldout map of the Trans-Pecos region. Foldout illustration showing the layout of military post of Fort Stockton. Brown cloth, title in gilt on spine. Clean, fine copy. Dust jacket shows fading to the spine, else, fine. The author, a native of Fort Stockton, is considered an expert on the history of the region. He divides his study in four chronological sections: Soldiers and Forts; Indians and Settlers; Laws, Outlaws, and Feuds; and Tragedy and Success. Encounters between the Indians and whites are thoroughly documented as is the development of ranching. An exhaustive study of the Trans-Pecos frontier, it is the most comprehensive treatment of the region to date.
$ 40.00
# bbf001
Category: