TEXAS IN THE CONFEDERACY.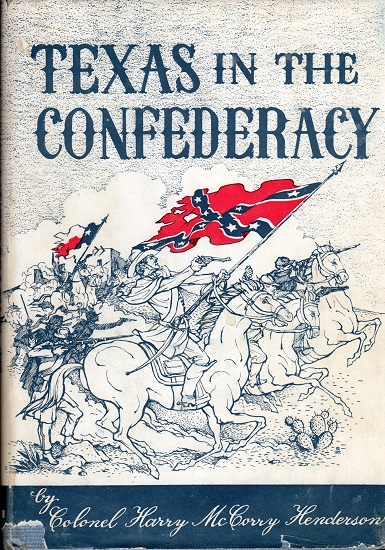 Col. Harry McCorry. Henderson
San Antonio: The Naylor Co., 1955. xvi,166pp. Index. Bibliography. Hard cover. First edition. Externally, light toning to the spine and other minor wear, overall good+. Internally, it has the ownership signature of the great granddaughter of James Harper Starr, the first treasurer of the Republic of Texas as well as the ink stamp of his great-great granddaughter who inherited her mother's library. The dust jacket exhibits moderate edgewear and chipping, overall good. The author has taken on the Herculean task of recording every Civil War campaign, engagement, or skirmish in which Texas troops participated ranging from campaigns led by famous units like Hood's Texas Brigade, Walker's Division, Terry's Texas Rangers, and Sibley's Arizona Brigade, as well as a number of lesser known units. Along with listing divisions, battalions, regiments and companies of Texas infantry, artillery, and cavalry, the author describes in some detail the activities of the men led by Hood, Sibley, Ross, Green and Granbury as the actions of Walker's Division and Debray's Regiment. Representing a tremendous amount of research, it is a worthwhile, readable account.
$ 35.00
# [gba024]
Category: