SARAH--- THE BRIDGE BUILDER: DOWAGER OF A DALLAS DYNASTY.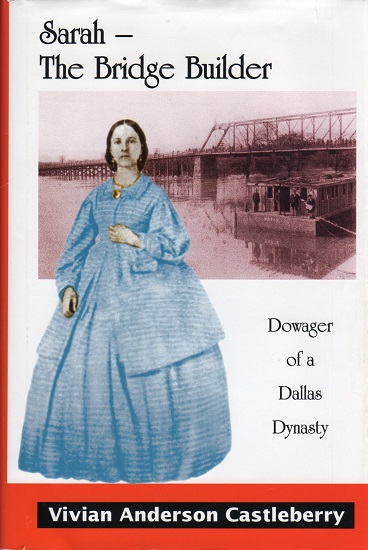 Vivian Anderson. Castleberry
Dallas: Odenwald Press, 2004. x,295pp. Index. Photographs. Genealogical chart. Appendices. Blue cloth, title in gilt on spine. First edition. INSCRIBED by the dedicatee. Except for a previous owner's book plate, it is bright, fine copy. The unclipped dust jacket is fine. Considered by many to be Dallas' first businesswoman, entrepreneur, capitalist and millionaire, Sarah Horton Cockrell moved from Virginia to Texas when she was in her early twenties. She married and had four small children when her husband was killed in a gun battle on Main Street. Sarah took over the operation of her late husband's ferry business. She also invested wisely in hotels, mills and real estate. Her Dallas Bridge Company built the first iron bridge over the Trinity River, providing a link to the major roads from the south and west. The result was a major economic boost to the city. At the time of her death in 1892 she was reputed to have owned approximately one quarter of what was then downtown Dallas. The author relies heavily on Sarah's letters and records to tell her story, as closely as possible, in her own words.
$ 50.00
# [ibj019]
Category: