SANTA GERTRUDIS BREEDERS INTERNATIONAL RECORDED HERDS- VOLUMES ONE, TWO & THREE.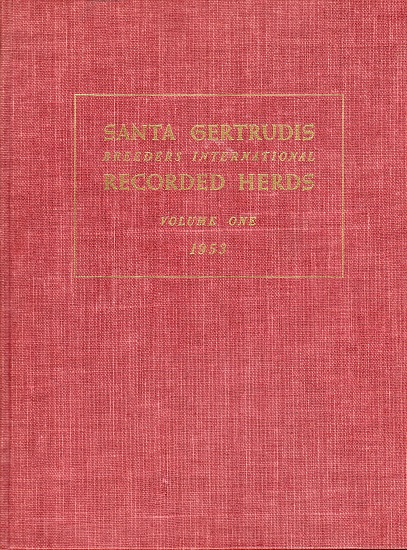 Robert J. Kleberg Jr.
Kingsville: Published for the Santa Gertrudis Breeders International, 1953, 1959, 1966. Three Volumes- 94pp.;99pp.&141pp. Photographs (some in color). Appendices. Notes. Maroon cloth. Volumes One and Two designed by Carl Hertzog. Maroon cloth with the title in gilt on the cover and spine. First editions. Volume One is SIGNED by Robert Kleberg, Jr. All copies are very good+ to near fine (no dust jackets issued). Volume One presents the history of both the breed and the Santa Gertrudis Breeders Association. It lays out the programs and goals and includes a list of recorded herds and Association members. Volumes Two and Three continue to chronicle the growth of both the breed and the association as well as containing lists of recorded herds and Association members. What is often missed is the wealth of information scattered throughout these volume. There are articles on the development of the breed and breed improvement, classification schemes, establishment of the Association, etc. Among the articles is one by Robert Kleberg discussing the Santa Gertrudis breed--- past, present and future. A cornerstone works on the Santa Gertrudis.
$ 245.00
# hc031
Category: