MONTANA [cover title].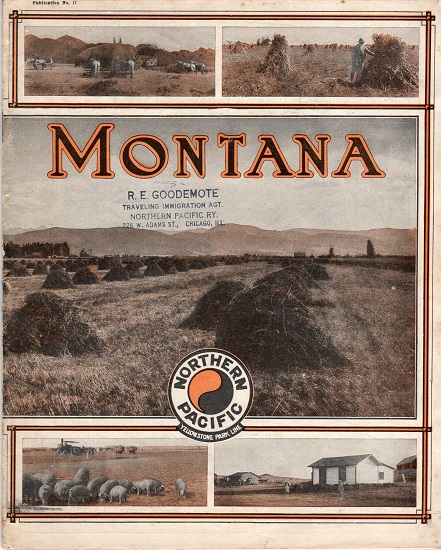 Northern Pacific Railway.
N.p. [St. Paul]: Published by the Northern Pacific Railway, n.d. [1917?]. 64pp. Approx. 10 ¼" x 8 ¼". Full color map on the inside front cover showing the counties of Montana and lines, both existing and proposed, of the Northern Pacific. A black & white double page map shows the areas served by the Northern Pacific and gives not only rail lines and highways but shipping rates for a variety of products. Numerous photographs and advertisements. Pictorial wrappers, stapled. Ink stamped: "R. E. Goodemote, Traveling Immigration Agt. for the Northern Pacific Ry. 226 W. Adams St., Chicago, Ill." Hardly noticeable, there is a "ghost" imprint of this same stamp on the back cover. First edition. Light general wear with faint damp stain to some pages internally. Overall, good+. A promotional publication issued by the Northern Pacific it extols the virtues of Montana for farming and ranching. There is information on climate, rainfall, high crop yields, the kinds of crops that can be raised and the quality of livestock. A large portion of the magazine is devoted to a description of the counties served by the Northern Pacific. It gives a summary of each county giving its history, land area, crops raised, and principal industries. It concludes with a selection of letters from immigrants relating their experiences and the opportunities offered in Montana.
$ 75.00
# [dbj004e]
Category: