MEMOIRS OF A ROLLING STONE, 1875 – 1905.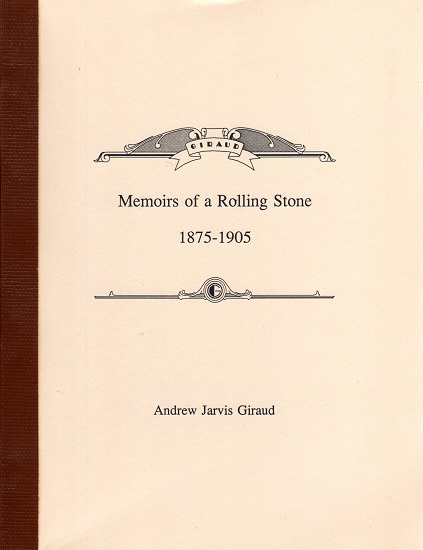 Andrew Jarvis Giraud and Edward H. Phillips
Pottsboro,Tx: Privately printed, 1990. vi,197pp. Index. Notes. Maps. Tan printed wrappers with brown cloth spine. First edition. Fine copy. Born and raised in Galveston, the author was truly a "rolling stone." His travels included four trips to Mexico where he was an orchid hunter, gold prospector, and acrobat with a gypsy troupe. Giraud recounts his experiences riding the rails as a hobo while traveling to the wheat fields of Kansas and the Dakotas, the mining towns of Montana, the Barbary Coast and the lumber camps of Idaho. As a 17 year old boy, he describes being a cook's helper on cattle drive from Austin to Englewood, Colorado, giving interesting commentary on daily events. Later, he would work on a ranch in the Del Rio area. Along the way, the author had interesting encounters with Mormons, Apaches, Harvey House waitresses, and a female baseball team known as the "Boston Bloomers." There are mentions of Billy the Kid, Judge Roy Bean, the Galveston Hurricane of 1900, the Rough Riders, the Chicago's World Fair, etc. An interesting read.
$ 40.00
# [abj004]
Category: