LOVE IS A WILD ASSAULT.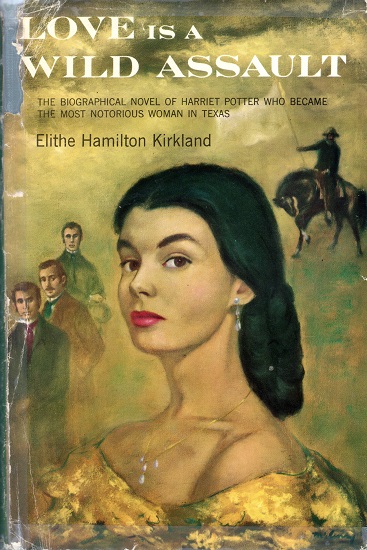 Elithe Hamilton. Kirkland
Garden City: Doubleday & Co., 1959. 502pp. First edition. The book is a near fine copy. The dust jacket exhibits a chip to the top of front and general wear with tape reinforcing along the edges of the spine and top and bottom edges, overall, fair. Greene, 50 Best Books on Texas p.50: "The book is passionately written because the story was passionately played. This true love story, even fictionalized, makes a fit contrast to some of the Gothic creations of live-in-danger." The novel is based on the memoirs of Harriet Potter Ames, widow of Robert Potter, one time secretary of the Texas Navy. It is her story of life in the wilds of southeast Texas before statehood. Kirkland used Harriet's own manuscript of her life plus court records, land deeds, newspaper articles, and letters as source material. It gives a good picture of what it was like for a woman in Texas during this period. Scare in the first edition.
$ 400.00
# [iab026]
Categories: