LONE STAR: A HISTORY OF TEXAS AND TEXANS.
SIGNED FIRST EDITION OF THE BEST GENERAL HISTORY ON TEXAS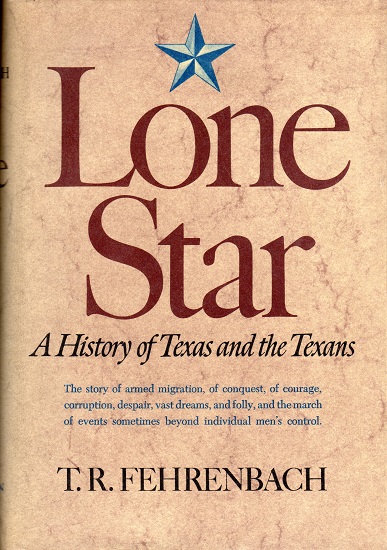 T. R. Fehrenbach
New York: The Macmillan Co., 1968. xii,761pp. Index. Bibliography & suggestions for further reading. Notes. Endpaper maps. Tan cloth. First edition, first printing. Fine copy. The price clipped dust jacket is near fine. An entertaining and detailed work, it was the first general history of Texas since the J. Frank Dobie era. It covers all the bases from the original amerinds, the Spanish explorers, the Mexican settlers, the Anglo invasion, Texas as a part of Mexico, Texas as an independent nation, and Texas as part of the United States. Most importantly, Fehrenbach not only tells the history of Texas but explains the character of Texas and Texans. A thought-provoking work of historical scholarship, many consider it to be the definitive general history of Texas. Signed copies in such nice condition are scarce.
$ 150.00
# [aba003]
Category: