IN THE BOSOM OF THE COMANCHES: A THRILLING TALE OF SAVAGE INDIAN LIFE, MASSACRE AND CAPTIVITY TRUTHFULLY TOLD BY A SURVIVING CAPTIVE. TEXAS BORDERLAND PERILS AND SCENES DEPICTED. THE CLOSING DAYS OF THE TRYING INDIAN STRUGGLES UPON THE FRONTIERS OF TEXAS.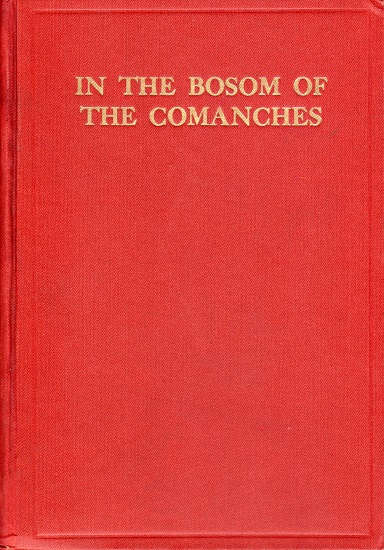 T[heodore]. A[dolophus]. Babb
Dallas: Press of Hargreaves Printing Co., 1923. [12],146pp. Numerous photographs. Introduction. Original red cloth with the title in gilt on the cover and spine. Second edition after the rare 1912 first. Externally, the gilt on the spine is dull. Internally, there is minor toning to some pages. Overall, a very good+ copy. Tate, The Indians of Texas 2263: "Thirteen-year-old "Dot" Babb was captured by Comanches during 1865. His captivity narrative remains a classic because Babb was able to directly observe details of Comanche life and record much of it in an objective way. He continued to visit and correspond with tribal members long after his return to white society." While many captivity narratives are considered to be partially or totally made up, Dot's narrative was based on firsthand experience. Adopted into the tribe, he had a unique opportunity to observe daily life with the Comanche. Babb observed all aspects of the tribe's customs and participated in activities including horse taming, raiding, hunting, and battles with other tribes-- all of which he records with excellent detail. Particularly interesting are his insights into the social structure and mores of the Comanche. Additionally, there are his recollections of Quanah Parker, the Texas Rangers, cowboying on the Waggoner Ranch, etc. Contains much valuable information on the pioneer women and their experiences on the frontier. Enhanced by a number of photographs of important Comanches.
$ 550.00
# [bba007]
Category: